Services Offered By Janet Wilson
*******************************
Tarot card reading ( Using the ancient Tarot card for your past, present and future predictions and time scale )
Palm
reading
( Your reading from the palm of your hand )
Mediumship/Contact with a loved one passed over

( Bring an item, jewellery or photo of a loved one or someone close passed over )
Gypsy spread

( Reading of playing cards, same as tarot reading but with a different twist )


Crystal ball

( I will see what lies ahead , past and present )


Tea leaves

( Your future in a tea cup )


Ribbon readings

( Choose a colour you are drawn to from my selection of ribbons and I will read them for you )


Psychometry

( Bring an item from someone this side or passed over for detailed reading )
Telephone readings

( Your Tarot card reading over the phone )
THE BELOW CAN BE BOOKED SEPARATE .

Contact with a loved one passed over
I can also bless your home, new or old, phone for details.
If you would like a phone reading without the traveling, phone me for a time slot and date with a idea of which time length, 30 mins £45 or 45 mins £55. includes CD recording. After discussing the time and date for you to phone me, a bank transfer or send a cheque for the required amount in a stamped address envelope.
Address further down page:-
Halloween makes a good night for booking readings at you parties, even in fancy dress.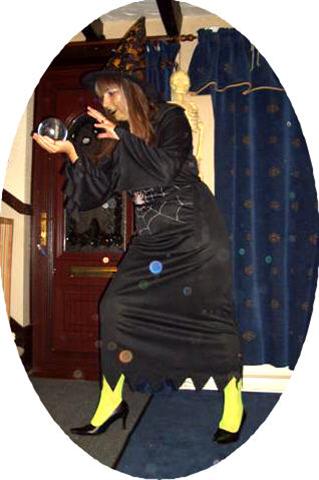 This is a picture of me when hired for a fancy dress Halloween night.
A Night with a Difference....
ALSO FOR YOUR FRIENDS AND FAMILY, I HAVE GIFT VOUCHERS YOU CAN PURCHASE FOR THEM AS PRESENTS FOR A READING WITH A VALUE OF £55 FOR 45 MINUTES OR £45 FOR 30 MINUTES INCLUDING RECORDING ON CD.
DE75 7AE

I will send the voucher out to your address or the persons you require address, straight away.

Thanks for looking, Janet x
Legal Disclaimer. By law readings have to be for entertainment purposes only and do not represent legal, financial, medical or other specialist advice. By engaging in this reading your are agreeing to these terms and confirming that you are at least 18 years old.